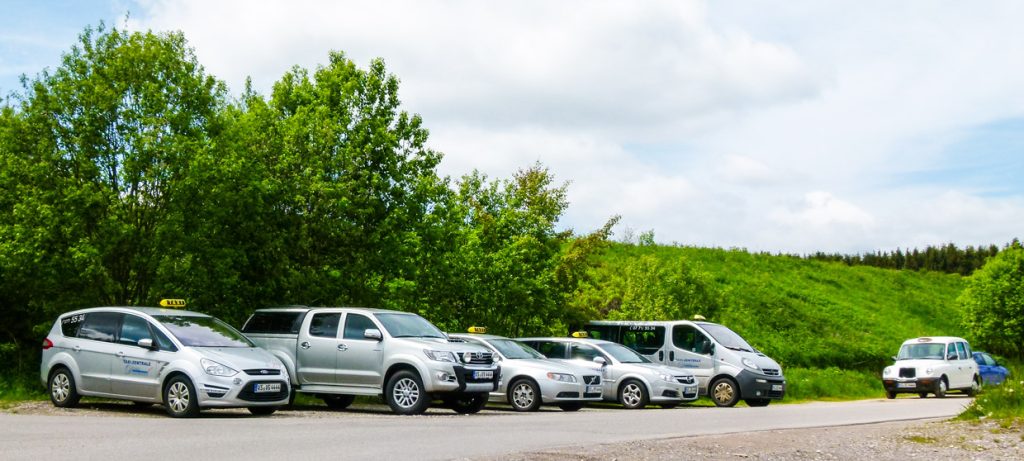 Are you at least 21 years old and have two years of driving experience (must be proven!) in class "B" (until December 31, 1998 class "3")?
Then you "only" need:
fill out an application for a "driver's license for passenger transport" at the local registration office (town hall or citizens' registration office),
a medical examination according to the occupational medical principle "G 25" (driving, steering and regular activities), as well as an ophthalmological report,
a police clearance certificate (Polizeiliches Führungszeugnis)
information from the Flensburg central traffic register
and a local knowledge test for Donaueschingen. The local knowledge of the core city, Aufen and Allmendshofen is tested (appointment by phone +49 7721 913-5005, district office Villingen-Schwenningen, branch office Donaueschingen, driver's license office),
in order to be able to work in our taxi company with your "driver's license for passenger transport" as a temporary assistant or for permanent employment.
It is also important that you have good manners, have a friendly, customer-oriented demeanor, are fluent in spoken and written German and also know your way around outside of Donaueschingen. Since the introduction of our GPS-supported radio data transmission, a certain basic technical understanding of how to operate the vehicle display has also been part of it.
If you meet these requirements, you are very welcome to join us.
If you are interested and would like further information, please contact us directly on +49 7 71 5534.
Our Benefits
an initial hourly wage of at least €12
Sunday and public holiday surcharges if you work on these days
Night surcharges if you work night shifts
paid vacation days
modern uniforms
a fixed car
These services should actually be normal, but unfortunately they are not always the case in our business.
However we do not pay out any money "under the counter".
Are you looking for a way to afford more luxury in your life? 
Get a flexible part-time job as a taxi driver at Donaueschingen's largest taxi company: TAXI-Zentrale Vogt
Working with us is interesting, safe and varied. You can decide for yourself when and how long you want to work.
Do you want to be a part o of us?
Apply Now: jobb@ds-taxi.de
If you have any questions, call +49 771 5534
If you drive at the TAXI headquarters Vogt, you will become part of the cityscape of Donaueschingen. Like our company and our vehicles, you also stand for safety, reliability and service.